Organic hemp tea: pure hemp and four hemp blends
Our hemp tea is available as 100% pure hemp. But we have also developed four delicious hemp blends. We have carefully composed these blends in collaboration with a tea sommelier.
All our teas are 100% certified organic. And of course, we only use real herbs. No artificial flavours, no sugar, no… Nothing! Just as mother nature intended.
The taste? mild, fresh and slightly sweet with a bit of a spicy aftertaste. It's often called a 'mild, somewhat sweet version of green tea'.
Hemp tea (officially: 'hemp infusion') is naturally free of caffeine. Making it a relaxing cup of tea for the evening.
Make of hemp leaves and flowers

Our hemp tea is 100% organic

All blends contain at least 50% hemp

Free of caffeine

Without any artificial flavorings, 100% natural

40 cups of tea in each pack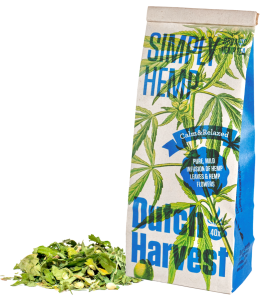 Pure hemp tea for ultimate relaxation
Simply Hemp is our pure, most powerful hemp tea, containing 100% hemp leaves and flowers.
It is a mild, slightly sweet infusion with a subtle, spicy aftertaste. A relaxing tea to unwind after a busy workday and to calm your body and mind. Wonderful after yoga or just before bedtime.
Simply Hemp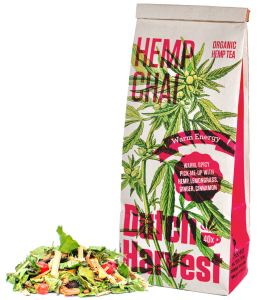 This Hemp Chai combines Ayurvedic spices with our Dutch hemp into an aromatic, slightly sweet blend that you can enjoy at any time of the day. The spicy Chai herbs are warming and deliciously energising. The fresh lemongrass makes this Hemp Chai a great summer drink, too. Enjoy on its own or add (plant-based) milk for a delightful 'Chai Latte'.
Hemp Chai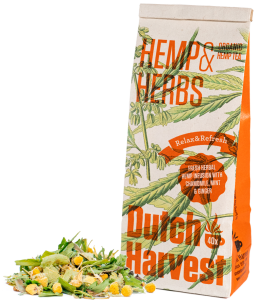 A relaxing and refreshing herbal blend
An easy-going, fresh and flowery herbal blend based on hemp. The other herbs are specially selected to complement hemp's relaxing effect. Peppermint and ginger add a bit of zing, making this a wonderfully refreshing iced tea in the summer. Hemp & Herbs is a lovely infusion for a moment of calm during a busy day, or at night before bedtime.
Hemp & Herbs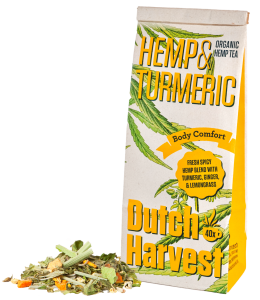 A fresh spicy blend to soothe the body
This spicy blend with mild hemp and golden turmeric brings deep relaxation for body and mind. The surprising combination of two powerful herbs — complemented with spicy ginger and fresh lemongrass — gives a warm, nurtured feeling for a lovely moment of calm.
Enjoy this fresh infusion pure, or as the basis for 'Hemp golden milk'.
Hemp & Turmeric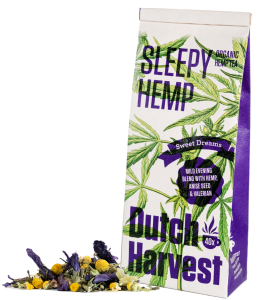 A mild evening blend for sweet dreams
Our hemp is joined by hops, its dreamy brother. Calming valerian and lavender complement this fine relaxing mix and accompany you to a deep, peaceful sleep. Rounded off with the sweet aniseed and chamomile, this mild blend will make you dream away.
Sleepy Hemp
Do you have a shop and would you like to sell Dutch Harvest? That's great!
For resellers
Do you have a shop and would you like to sell Dutch Harvest? That's great!