Fresh ginger tea is delicious when combined with hemp tea
Verse gemberthee maken wordt steeds populairder. Maar wat dacht je van een hennep-gemberthee? Deze simpele, verfrissende ijsthee werd door de mannen van Viriditas gemaakt en gefotografeerd. Bedankt!
Dutch Harvest SIMPLY HEMP
Verse gember
Verse munt
Citroen
Eventueel agave siroop
IJsblokjes
Maak Dutch Harvest thee zoals je gewend bent. Voeg er dan verse gember aan toe samen met de verse munt, citroen en flink wat ijsblokjes. Probeer 'm eerst zo, en voor de sweety pies onder ons: voeg er eventueel nog wat agave siroop aan toe.
Turmeric hemp latte – 'hemp golden milk'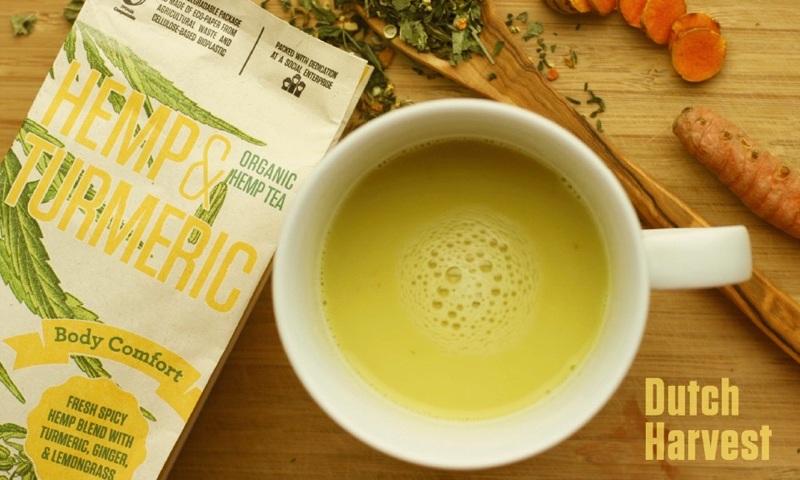 Heart-warming recipe of our own Tanja!
For 1 serving:
200 ml oat milk
1 tsp Dutch Harvest HEMP & TURMERIC tea
1 cm fresh turmeric root in slices
strainer
Put all the ingredients in a small pan, heat it up and let it simmer for 10 minutes (don't let it boil!). Filter the ingredients through a strainer into your mug. You might want to create some foam with a milk foamer. This is a lovely warm and spicy dring, and a great alternative for coffee at night. Enjoy!
Hemp icetea with nectarine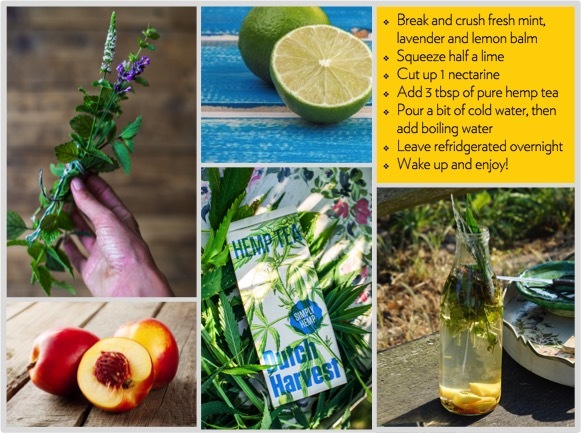 This lovely fresh hemp icetea recipe was created for us by plant activist Lisette Kreischer
3 eetlepels SIMPLY HEMP op 1 liter water
Een paar takjes lekkere frisse, krachtige munt
3 takjes lavendel
1 takje citroenmelisse
1/2 limoen
1 nectarine
Breek en crush de kruiden, zodat de aroma's vrijkomen en doe ze in een glazen fles. Doe de pure hennepthee erbij. Knijp er wat limoen over uit. Snijd de nectarine in stukjes en voeg deze ook toe. Giet vervolgens eerst wat koud water over de kruiden, zodat ze niet verbranden. Laat even kort staan. Vul daarna de fles met gekookt water en sluit het deksel. Laat afkoelen en zet het mengsel in de koelkast. Laat het liefst een nachtje staan. Et voilà: geniet de volgende dag van een verfrissend en kalmerend ijstheetje! Leng eventueel aan met nog wat koud water als je het iets te sterk vindt, maar vergeet niet, het is natuurlijk een geneeskrachtig ijstheetje!
Meer smakelijke kruidenrecepten? kijk eens op www.lisettekreischer.com