Fresh ginger tea is delicious when combined with hemp tea
Making fresh ginger tea is becoming a real trend. But what about hemp-ginter tea?
Dutch Harvest SIMPLY HEMP
Fresh ginger
Fresh mint
Lemon
Optionally: some agave syrup
Ice cubes
Make Dutch Harvest tea sa you are used to. Add some fresh ginger, fresh mint, lemon and some ice cubes. First try it like this. Prefer more sweetness in your life? add some agave syrup. Easy the peasy isn't it? enjoy!
Hemp icetea with nectarine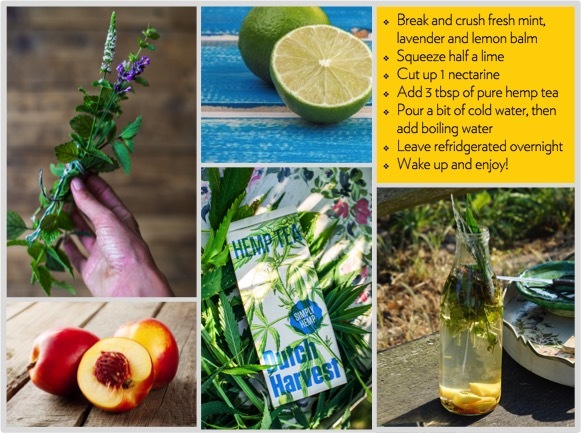 This lovely fresh hemp icetea recipe was created for us by plant activist Lisette Kreischer
3 tbsp of SIMPLY HEMP tea
some fresh, powerful mint
3 sprigs of lavender
1 sprig of fresh lemon balm
1/2 lime
1 nectarine
Break and crush the herbs to let the aromas come out, and put them in a glass bottle. Add the pure hemp tea. Squeeze some lime in the bottle. Cut the nectarine in pieces and it. Than add a bit of cold water (so that the herbs don't get burned!). Let it sit for a while and then fill up the bottle with boiling water. Let it cool down and put it in the fridge. If you have the patience… let it infuse for a whole night. And tadaa, next day you'll have a calming and refreshing ice tea!
If it is too strong, you might want to add a bit of cold water but don't forget, it is a powerful healing tea!
More tasty herbal recipes? check out www.lisettekreischer.com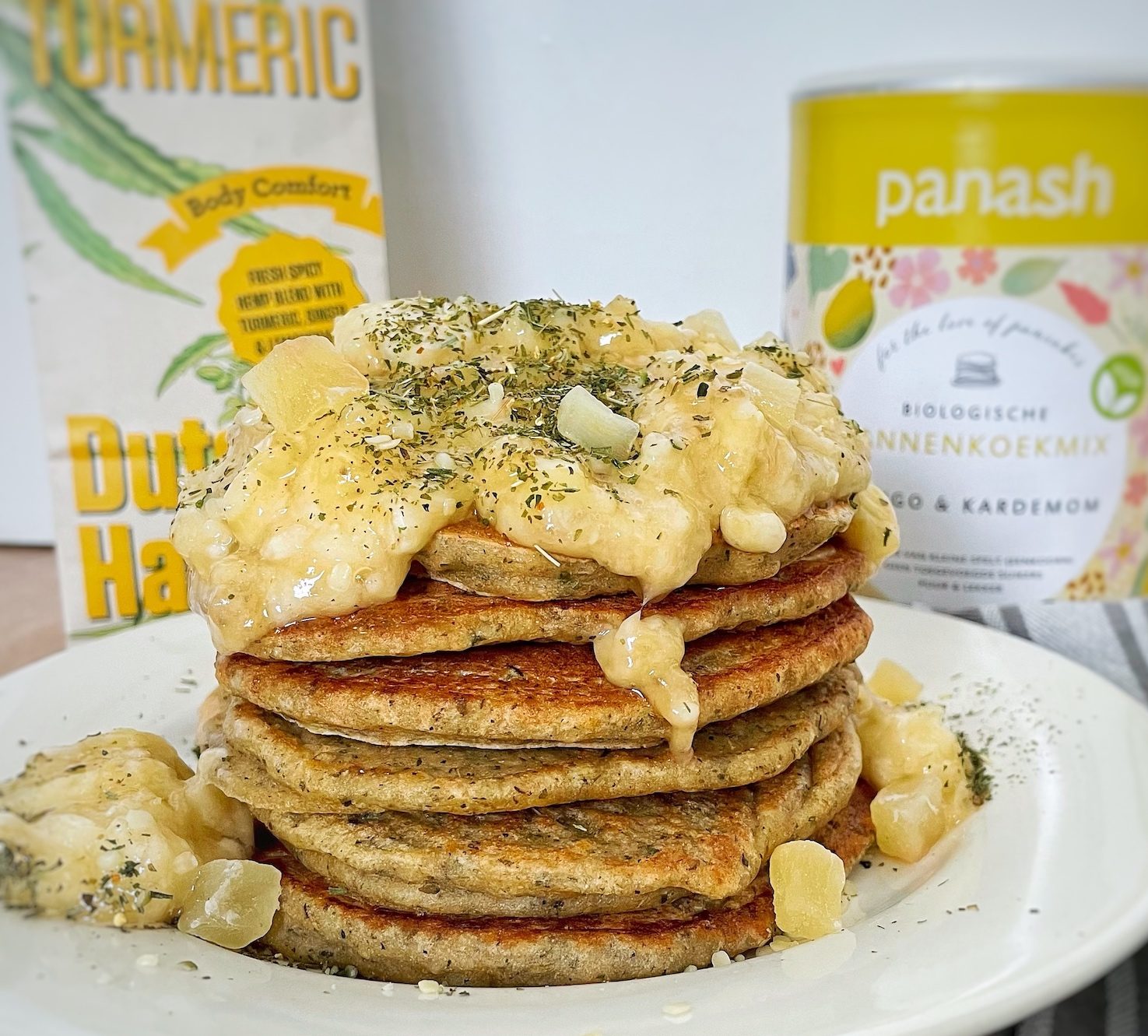 For about 5 large pancakes or 8 small pancakes
125g pancake mix
3 tbsp ground HEMP & TURMERIC TEA (blend the hemp tea in a food processor and use a fine strainer like a tea strainer to filter out the coarse bits)
3 tbsp apple puree
250 ml oat milk
Toppings:
Mashed banana and/or mango
Dried pineapple and/or mango
1 tsp ground hemp tea
Hempseed
Preparation
Mix all ingredients together in a bowl. For thinner pancakes, you can add extra oat milk. Scoop some of the mix with a wooden spoon into a pan with olive oil. After about 1 ½ minutes, flip the pancake over medium-high heat and cook for another minute until both sides are golden brown. Mix the toppings together and drape them over the pancake. Enjoy!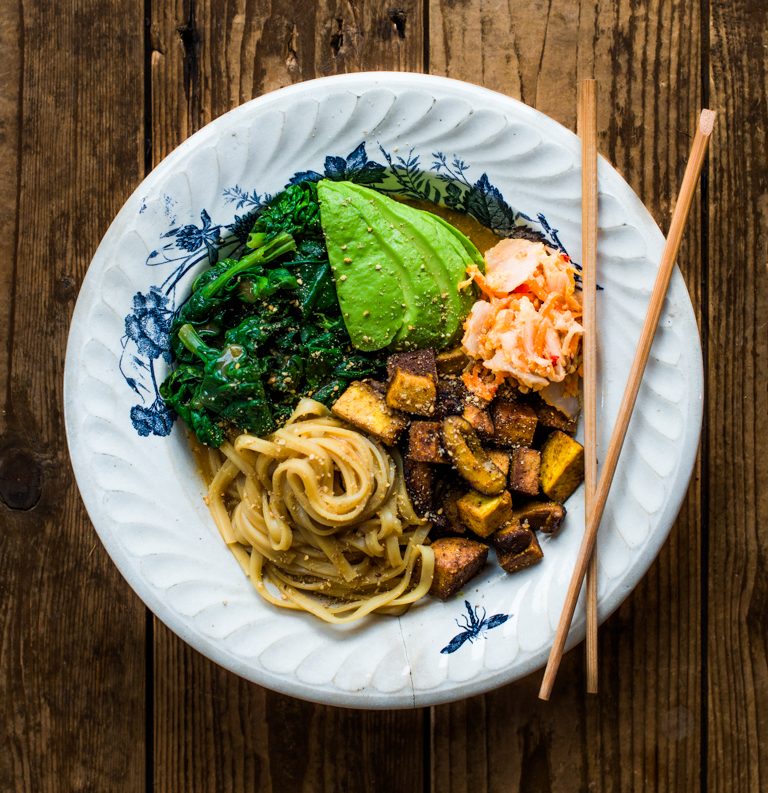 Noodles in a Hemp miso broth by vegan powerwoman Lisette Kreischer
CBD oil is hot AF and so is this noodle bowl! The flavours are green, bright and powerful. By steeping hemp leafs into the broth, this dish gains superpowers.
INGREDIENTS:
3 tbsp pure hemp leafs or 2 sachets hemp tea (we use Dutch Harvest SIMPLY HEMP Tea)
500 ml water, recently boileD
2-3 tbsp white or light brown miso (adjust to taste)
100 g soba noodles
150 g tofu, cut into small cubes
100 g shiitake mushrooms, diced
4 tbsp oil
¼ tsp curry powder
1 tbsp soy sauce or shoyu
300 g spinach, washed
1 garlic clove, peeled and finely chopped
salt and black pepper
½ avocado, peeled
4 tbsp kimchi
optional: gomashio
INSTRUCTIONS
Steep hemp leafs in hot water for ca. 10 minutes. Strain and put into a pan. Dissolve miso into the hemp infusion and reheat, but keep temperature just under boiling point. Add noodles and simmer according to the time on the package. In the meantime fry tofu and shiitake in 3 tbsp of oil until they start to crispen. When tofu and shiitake look nice and slightly browned add curry powder, 1 tbsp water and 1 tbsp shoyu. Immediately turn off heat and transfer to a plate. Wipe pan clean and add 1 tbsp oil. Fry spinach until just cooked, add garlic, season to taste with salt and black pepper and switch off heat.  Put noodles into a bowl. Arrange tofu, shiitake, spinach, avocado and kimchi around the noodles and pour with the left over hemp broth. Sprinkle with gomashio.
Source and more great vegan recipes: Man.Eat.Plant.
Turmeric hemp latte – 'hemp golden milk'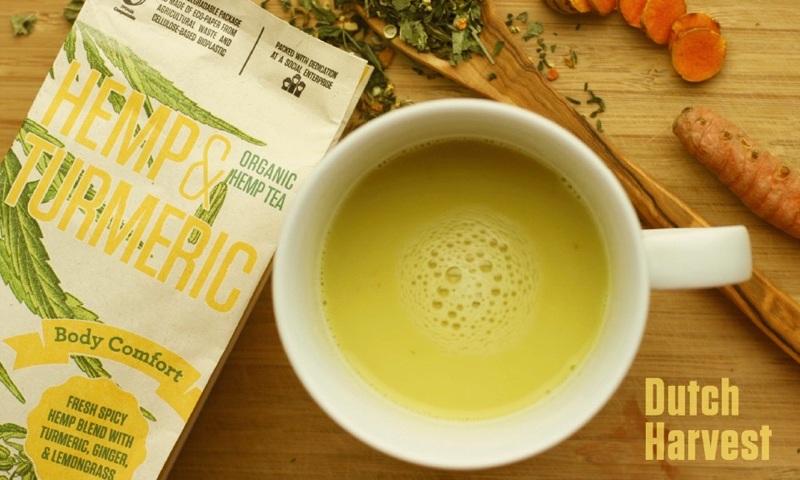 Heart-warming recipe of our own Tanja!
For 1 serving:
200 ml oat milk
1 tsp Dutch Harvest HEMP & TURMERIC tea
1 cm fresh turmeric root in slices
strainer
Put all the ingredients in a small pan, heat it up and let it simmer for 10 minutes (don't let it boil!). Filter the ingredients through a strainer into your mug. You might want to create some foam with a milk foamer. This is a lovely warm and spicy dring, and a great alternative for coffee at night. Enjoy!